DER GANZ GROSSE TRAUM
Eine Produktion der Cuckoo Clock Entertainment mit deutschfilm und Senator Film Produktion in Koproduktion mit Rialto Film und ARD Degeto im Verleih der Senator.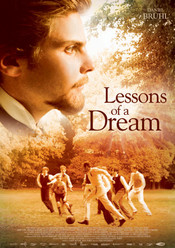 Story: Der junge Lehrer Konrad Koch (Daniel Brühl) soll in einem altehrwürdigen deutschen Gymnasium im Jahr 1874 Englisch unterrichten. Um die Schüler für die fremde Sprache zu begeistern, greift er zu unorthodoxen Mitteln und bringt ihnen einen seltsamen englischen Sport nahe: Fußball. Bald bekommt er Schwierigkeiten an der kaiserlich-strengen Schule und ihm wird gekündigt. Doch jetzt ergreifen die Schüler die Initiative…
Der Film erzählt dramatisch und humorvoll die unglaubliche Geschichte wie durch einen unbeirrbaren Idealisten der Fußball nach Deutschland kam – frei nach wahren Begebenheiten.
u.a. mit Burghart Klaussner, Justus von Dohnányi, Thomas Thieme, Jürgen Tonkel, Kathrin von Steinburg, Adrian Moore, Theo Trebs, Till Valentin Winter, Josef Ostendorf und Henriette Confurius.
Preise und Nominierungen:
April 2013 – Remi Special Jury Award Theatrical Feature Production 2013, 46th Worldfest Houston, USA
Februar 2013 – Beste Regie & Publikumspreis 3rd Int. Football Film Festival in Yokohama, Japan
September 2012 – Bester Film & Daniel Brühl Bester männlicher Hauptdarsteller – 13. International Filmfestival Pjönjang, Nordkorea
September 2012 – Bester Film – 30th Festival International de Cinema Jeunesse de Rimouski, Quebec, Canada
Mai 2012 – Nominierungen für Theo Trebs und Adrian Moore als Beste Darsteller internationaler Spielfilm, 33rd Young Artists Awards, Studio City, Kalifornien, USA
April 2012 – zwei lobende Erwähnungen der Fachjury (Le prix de la ville de Saint-Quentin) und der Jugendjury  (Le Grand Prix) – 30. International Film Festival Ciné-Jeune de l'Aisne, Frankreich
Oktober 2011 – Publikumspreis Generation Rio de Janeiro, Brasilien
November 2011 – Nominierung zum Video Champion 2011
November 2011 – Gewinner des Kinderkinofests Düsseldorf
April 2011 – 3 Nominierungen zum Deutschen Filmpreis: Bester Film, Beste Kamera (Martin Langer) und Bestes Kostümbild (Monika Jacobs)
April 2011 – Bunte New Faces Award für den 16-jährigen Theo Trebs alias Felix Hartung
Weitere Festivalteilnahmen und Vorstellungen:
März 2016 – 23rd Prag Intern. Filmfestival FEBIO, Tschechien
Februar 2016 – Solapur Int. Filmfestival, Indien
Januar 2016 – 3rd Aurangabad Int. Filmfestival, Indien
Januar 2016 – 6th Yashwant Int. Filmfest Mumbai,, Indien
Januar 2016 – PIFF Pune Intern. Filmfestival, Indien
Juni 2015 – 55th Zlin Int. Film Festival for Children and Youth, Tschechien
September 2014 – Goethe-Insitut Iasi, Rumänien
September 2014 – Goethe-Institut Blagoweschtschensk, Russland
September 2014 – Addis Adeba, Aware, Äthiopien
September 2014 – German Film Festival, New Zealand (Auckland, Wellington, Dunedin)
Juli 2014 – Goethe-Insitut Yogyakarta, Java, Indonesien
Juli 2014 – Goethe-Institut Hongkong
Juli 2014 – 19th European Film Festival, Pune, Indien
Juli 2014 – Goethe Institut Hyderabad, Indien
Juli 2014 – German Movie Nights, Calgary, Canada
Juni 2014 – Goethe-Institut Bankok, Thailand
Juni 2014 – Goethe-Institut Pardubice, Tschechien
Juni 2014 – Goethe Institut Windhoek, Namibia
Juni 2014 – German Movies, Kuala Lumpur, Malaysia
Juni 2014 – Goethe-Institut Krakau, Polen
Mai 2014 – 19th European Film Festival (Eröffnungsfilm), Mumbai, Indien
April 2014 – Goethe-Institut Los Angeles, USA
März 2014 – Goethe-Institut Kigali, Ruanda
März 2014 – Goehte-Institut Izmir, Türkei
März 2014 – 19th European Film Festival, Bangalore und Delhi, Indien
November 2013 – Arts & Culture Ottawa, Canada
November 2013 – Tage des deutschsprachigen Films, Nikosia, Zypern
November 2013 – Goethe-Institut Lissabon, Portugal
Oktober 2013 – German American San Diego Foundation, USA
Oktober 2013 – Goethe-Kino: Deutsches Kulturforum Debrecen, Ungarn
Juni 2013 – Best Of, Goethe-Institut Los Angeles, USA
Juni 2013 – German Cinema Film Festival, Indonesien (Jakarta, Bandung, Yogyakarta, Balikpapan, Makassar, Palu)
Mai 2013 – 17th European Film Festival in Port of Spain, (Trinidad) & Tobago
April 2013 – 46th Int. Film Festival WorldFest-Houston, USA
April 2013 – La Lucarne Premier Festival des Films de Football en France, Paris
November 2012 – European Union Film Festival in Beijing, Tianjin, Chengdu und Shenzhen, China
November 2012 – European Cinema in Bolivia, La Paz, Bolivien
November 2012 – Coca-Cola Cinemagic International Film and Television Festival for Young People 2012, Belfast, Nordirland
September/Oktober 2012 – 17th Berlin & Beyond Festival San Francisco, USA
September/Oktober 2012 – 3rd German Film Festival, Vietnam
Oktober 2012 – German Film Festival, Portland, USA
Oktober 2012 – European Film Festival, Baku, Aserbaidschan
August 2012 – 8th Santiago International Film Festival, Chile
Mai 2012 – Goldener Spatz, Gera und Erfurt
April 2012 – Audi Festival of German Films in Melbourne, Australien
Februar 2012 – 10th International Debut Film Festival of Cinematography "Spirit of Fire" in Khanti-Mansiisk, Russland
Februar 2012 – Glasgow Youth Festival, Schottland
Dezember 2011 – International Young Audience Film Festival Ale Kino! in Poznan, Polen
Dezember 2011 – Goethe Institut Boston, USA
Dezember 2011 – Kinderkinofest Bülligen, Belgien
November 2011 – 10. Festival des Deutschen Films in Moskau, St. Petersburg und Nowosibirsk, Russland
November 2011 – American Film Market (AFM) in Santa Monica, USA
November 2011 – German Film Festival Singapore
Oktober 2011 – Goethe Institut Hong Kong
August 2011 – World Competition Montréal, Kanada
Mai 2011 – Market Screenings in Cannes
Pressebetreuung: VIA BERLIN. Bei Fragen und Wünschen können Sie sich jederzeit gerne an Hilde Läufle oder Nina Schattkowsky, Tel: 030 / 240 877 – 3, Email: info@via-berlin.com, wenden. Bei Fragen an Senator Film Verleih wenden Sie sich bitte an Nele Kirchner, Tel. 030 / 880 91 – 799, Email: presse@senator.de.
Regie: Sebastian Grobler. Drehbuch: Philipp Roth & Johanna Stuttmann. Idee: Sebastian Grobler & Raoul Reinert. Kamera: Martin Langer. Szenenbild: Thomas Freudenthal. Kostümbild: Monika Jacobs. Maskenbild: Sabine Schumann. Musik: Ingo L. Frenzel & Marco Meister. PL: Christian Springer. Produzenten: Raoul Reinert & Anatol Nitschke. Koproduzenten: Helge Sasse, Matthias & Felix Wendlandt, Hans-Wolfgang Jurgan. Senderbeteiligung: ARD/Degeto, Förderungen: FFA, FFHSH, BKM/Kuratorium, Nordmedia, Medienboard Berlin-Brandenburg, DFFF. Weltvertrieb: Beta Film.
TV-Sendetermine (über 100 x wiederholt im deutschen TV!)
Schon 65 mal auf Sky gezeigt und 38 mal im deutschen Free-TV wiederholt: So, 30.12.12, 17.45 Uhr, Das Erste (Erstausstrahlung) / Mo 01.04.2013, 12:10 Uhr, Festival (ARD digital) / Mo, 12.8.13, 23.15 Uhr, NDR / Sa, 7.9.13, 13.30 Uhr, WDR-Fernsehen /  Mi, 25.12.13, 16.45 Uhr, EinsFestival / Do 26.12.2013, 18:30 Uhr, Einsplus (ARD digital) / Mi, 1.1.14, 15.10 Uhr, EinsFestival / So, 12.1.14, 11.00 Uhr, MDR /  Sa, 19.4.14, 17.15 Uhr, EinsFestival / Mi/Do, 18./19.6.14, 2.35 Uhr, Das Erste / Sa, 30.05.2015, 23.40 Uhr, Das Erste / Do, 04.06.2015, 13.20 Uhr, EinsFestival / Fr, 25.12.2015, 20.15 Uhr, ARTE /  So, 27.12.2015, 09.45 Uhr, ARTE / Di, 29.12.2015, 13.45 Uhr, ARTE / Sa, 02.01.2016, 16.30 Uhr, 3sat / So, 03.01.2016, 05.35 Uhr, 3sat / Sa, 14.05.2016, 11.35 Uhr, Das Erste / So/Mo, 10./11.07.2016, 00.50 Uhr, ARD / Sa, 27.08.2016, 22.00 Uhr, BR / So, 25.09.2016, 16.15 Uhr, 3sat / Sa, 08.10.2016, 14:45 Uhr, Eins Festival / So 16.10.2016, 13:30 Uhr, Eins Festival / Sa 08.10.2016, 14.45 Uhr, ONE / ab 21.01.2017 in der WDR Mediathek, Sa., 21.01.2017 13:30 auf WDR / Mo., 23.01.2017 03:50 Uhr, WDR / Do., 29.12.2016, 7:45 Uhr, SWR/SR / Sa 21.01.2017, 13:30 Uhr, WDR / So., 02.04.2017 16:45 auf 3sat / Mo., 03.04.2017 13:25 auf 3sat / Do. 22.06.2017 22:45 auf rbb Brandenburg. / So., 15.10.2017 13:15 ; Sa. 21.10.2017  14:55; So., 22.10.2017 08:30 auf ONE / Sa 12.05.2018, 15:45 Uhr, 3SAT / 04.06.2018, 03:00 Uhr, SR, SWR / 14.06.2018, 20:15 Uhr, hr
Weltvertrieb (in über 80 Länder lizenziert)
Theatrical all rights: Japan, China, Spain, France, South Africa
PTV + VOD Latin America: (Argentina, Bolivia, Brazil, Chile, Costa Rica, Ecuador, El Salvador, Guatemala, Honduras, Columbia, Mexico, Nicaragua, Panama, Paraguay, Peru, Uruguay, Venezuela)
PTV + VOD Middle America and Caribbean, Antilles (Anguila, Antigua, Antilles, Aruba, Bahamas, Barbados, Barbuda, Belize, Bonaire, British Virgin Islands, Cayman islands, Curacao, Dominica, Dominican republic, French Guyana, Grenada, Guadeloupe, Haiti, Jamaica, Martinique, Minserrat, Saba, St. Christopher & nevis, St. Kitts, St. Lucia, St. Marteen, St. Vincent & Grenadines, Trinidad & Tobago, Tortola, Surinam)
PTV + VOD Asia: (India, Indonesia, Malaysia, Philippines, Singapore (+HV), South Korea, Taiwan, Thailand, Vietnam, Hong Kong)
Turkey, Cyprus
PTV + VOD Eastern Europe/Former Yugoslavia: (Czech Republic, Hungaria, Poland, Romania, Slowak Republic, Slovenia, Albania, Bosnia and Herzegovina, Bulgaria, Serbia, Montenegro, Croatia, Macedonia)
FTV + VOD: Taiwan, Philippines
VOD: Vietnam
PTV: Israel
FTV: Italy, Slovenia, Slowak Republic, People's Republic of China, Iran, French speaking Canada
Inflight:
Oman, United Arab Emirates, Canada, Qatar, Singapore, People's Republic of China, Brunei, South Africa, Hong Kong
Worldwide non-commercial screenings:
Goethe Institut
Februar 2010
Alle relevanten Fördergremien unterstützen
Der ganz große Traum des Konrad Koch
Mit den Förderzusagen der FFA und des Medienboards Berlin-Brandenburg hat die Produktion von Cuckoo Clock Entertainment und deutschfilm in Koproduktion mit Senator Film Produktion alle beantragten Förderungen erhalten. Weitere Förderer sind (mit der höchsten Summe) die FFHSH, die Nordmedia/Land Niedersachsen, das BKM / Kuratorium und der DFFF. Die Projektentwicklung wurde durch eine FFA-Drehbuchförderung und eine Projektentwicklungsförderung der FFHSH ermöglicht. Der Dreh unter der Regie von Sebastian Grobler ist für Juli-Anfang September 2010 geplant. Autoren sind Philipp Roth (u.a. Schwere Jungs) & Johanna Stuttmann (u.a. Nacht vor Augen) – nach Ideen und Recherchen von Sebastian Grobler und Raoul Reinert.